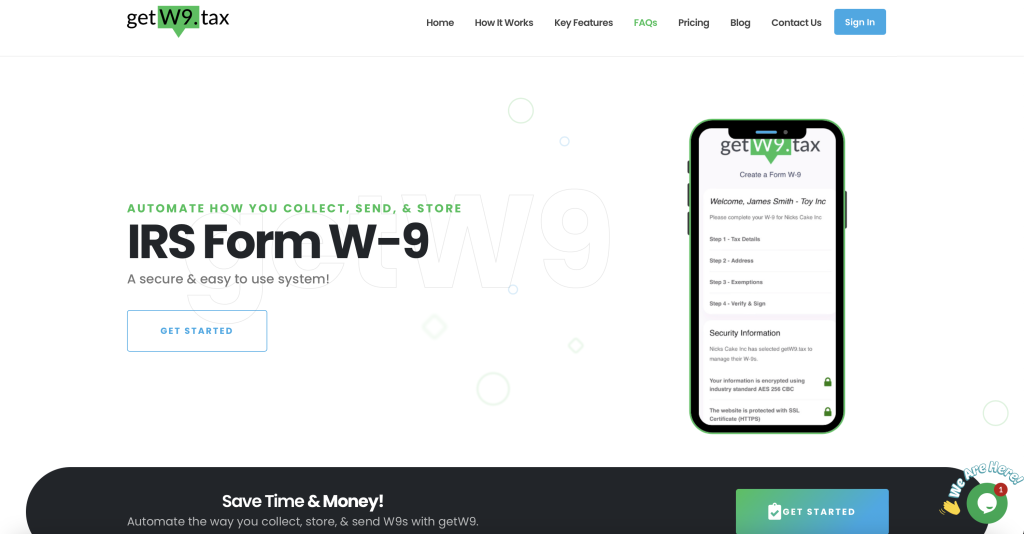 How can the vendor W-9 collection in QuickBooks® Online be Automated?
QuickBooks® Online (QBO) is one of the most popular and easiest accounting programs available. Many businesses and organizations rely heavily on QBO to run their operations efficiently and smoothly. There is a QuickBooks® Online integration available through getW9.tax, which helps users save time, money & headaches in getting Form W-9s from their vendors, suppliers, contractors, etc.
How the getW9 integration with QuickBooks® Online (QBO) can save you time & headaches:
The integration is a two-way sync, which means both systems talk to each other once the integration is set up. In the getW9 system, you can add as many of your companies as you need to, and each company can be independently integrated into its respective QBO account. Once the integration is completed, there are two ways a vendor's W-9 can be requested, and their vendor profile in QBO, along with a PDF of the W9, can be updated.
When New Vendors are added to QuickBooks® Online
Anytime you add a new vendor to QBO along with their email address, getW9 will read the vendor's name & email and send them an email request to fill out a Form W-9 online using the getW9 system. (Note: The process is entirely digital, and the person can fill out, sign & submit their W-9 all online without having to print or download anything).
Once the W-9 has been submitted back, the vendor's profile QBO will get updated with their address, tax ID, and a PDF of the W-9. The W-9 details & PDF will also be available in getW9.
One thing to keep in mind when adding new vendors in QBO is if another existing vendor is using the same email address that you are going to use for your new vendor, then getW9 will not be able to pull the new vendor, due to the duplicate email address being used, however, you could remove the email from the other vendor using it, and add it to the new vendor's profile, or you could create a request through getW9 as described below.
All the W-9 requests created can be viewed & tracked in the getW9 account.
Creating a Form W-9 Request in getW9
Another way to add or update vendor profiles in QBO is by creating a Form W-9 request in getW9.
Once you create a request in getW9, and the vendor fills out their W-9, then getW9 will create a new vendor profile in QBO and add all the vendor's details, tax ID, and also attach a PDF of the W-9 to their vendor profile. Note, the details & PDF will also be stored in getW9.
If the vendor already existed in QBO, and your QBO shows two vendors with the same name, then you could merge the two profiles by following the instructions provided by QuickBooks (click here to view the instructions on how to merge vendor profiles).
We highly recommend that you have a potential vendor, supplier or independent contractor complete a Form W-9 prior to engaging in business with them.
If you have any other questions or need support, please feel free to email us at team@getw9.tax or vic@getw9.tax!
Thanks!
Vic @ getW9
https://getW9.tax



Automate how you collect & store the Form W-9!